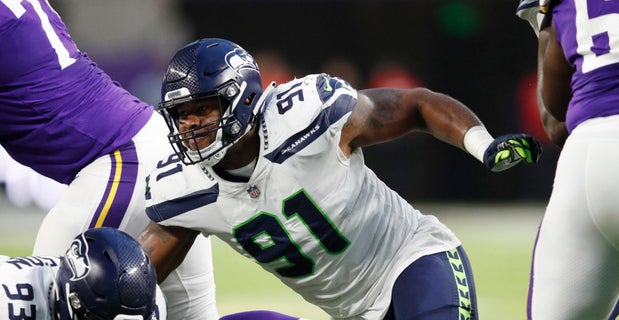 For the Seattle Seahawks, Minnesota Vikings defensive tackle Tom Johnson will always be the one that got away and a reminder when you try to play the game of NFL roster keep away, there's always a chance you get burned.
In the offseason, the Seahawks signed Johnson to more-or-less a one-year, veteran-minimum deal with incentives to slightly increase the final totals. The team coupled Johnson along with a minimum deal for Shamar Stephen to replace Sheldon Richardson by throwing affordable depth at the problem of losing a young star. Richardson's defection to the Vikings over a lowball offer opened up the space for the Vikings not to re-sign Johnson and Stephen and thus the Seahawks scooped them up.
The Vikings had a young stud inside pass rusher. The Seahawks had two veterans who Pete Carroll raved about wishing they'd gotten them into the system earlier in their careers, specifically Johnson. Everyone was a winner.
At least until week two.
Because of injury situations to strong safeties Bradley McDougald and Delano Hill, the Seahawks had to call up Shalom Luani from their practice squad. With five defensive tackles on their roster, that spot was the easiest from which to release a player and since Johnson was a vested veteran, he wouldn't be subject to waivers like youngsters Poona Ford or Nazair Jones. So the Seahawks released Johnson but with a caveat.
"We hoped to [get him back], yeah," Carroll lamented on Thursday. "We had hoped to. We had liked him and we had hoped to but it didn't work out."
The Seahawks didn't get him back. Instead, Johnson returned to his old team the Vikings. It allowed him to double dip on salary in 2018 because his base salary with the Seahawks was already fully guaranteed due to being a vested veteran on the team's opening week roster. Now, Johnson says he's coming back to CenturyLink Field, where he never even played a regular season home game, to make a statement.
If a player falls off the roster without playing a regular season game at CenturyLink Field does the roster cut make a sound?
(The Seahawk can almost taste the playoffs after spoiling Richard Sherman's homecoming. Stay informed right along with us — take five seconds to Sign up for our Free Seahawks newsletter now! R.I.P. Paul Allen)
Johnson also says the Seahawks know they let a good one get away.
"They know what the deal is,'' Johnson told the St. Paul Pioneer's Chris Tomasson. "They know what I am and how I play. I'm sure compared with the guys that they have that I would be a good addition to … what they've got going on."
Carroll agrees. He's still fawning over the one that got away.
"He's been a terrific player over a long period of time with really good motor, savvy [and] the consistency was always there," Carroll said on Thursday. "He kind of rolled through their stuff. Last year, he had played the most he played probably in his career in a season and he just showed that he could be an every-down guy for you. We thought of him as an older guy that we would want to make sure we counted his reps and took full advantage of that. We just didn't get the chance to stay steady with it and he's doing well. He's got 3.5 sacks or something. They're doing a good job."