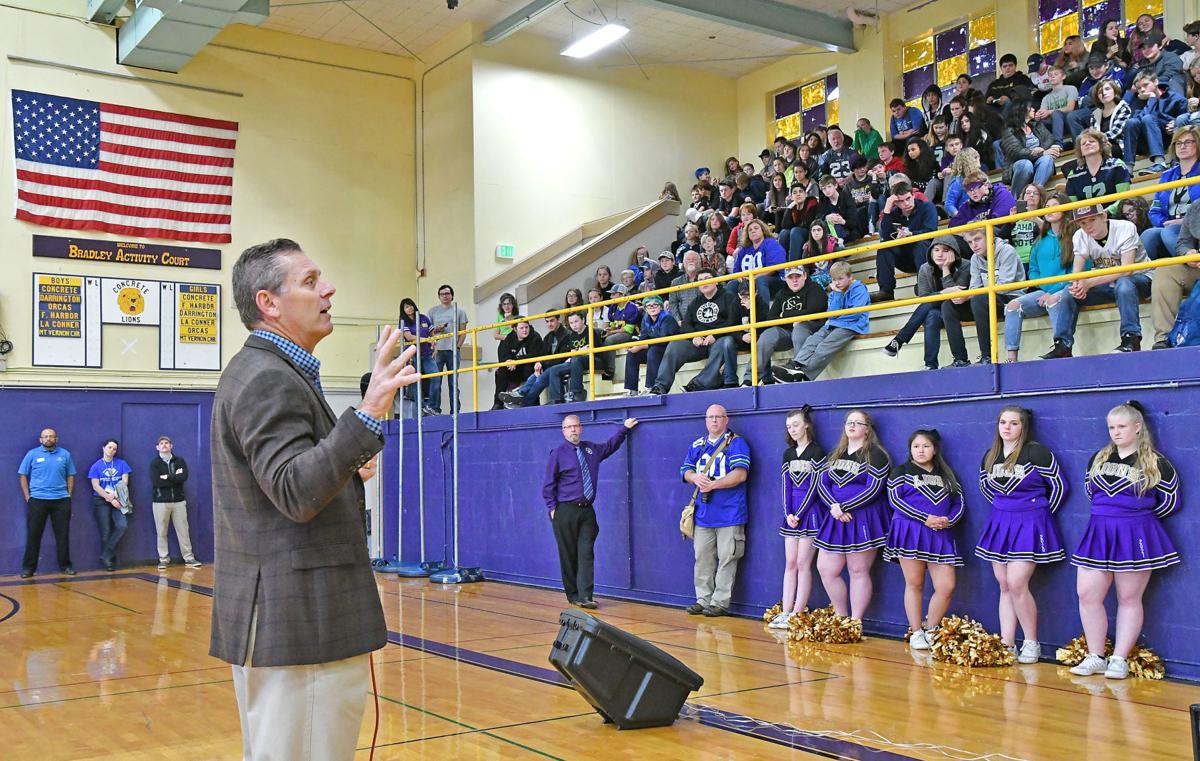 CONCRETE — Former Seattle Seahawks wide receiver Steve Largent recalled Friday a 1986 game against the Denver Broncos in which he thought he had recovered a fumble — only to learn the ball he recovered was actually a stray let loose from the sidelines.
That was the play he wanted Concrete High School students to remember during his visit to the school.
"Aim your life in such a direction that you don't fall on the wrong ball," he told the students.
Largent was in Concrete to celebrate the Boys & Girls Clubs of Skagit County's new club, which opened thanks to a $1.6 million federal grant.
The Pro Football Hall of Famer told the students that when he was in eighth grade, he joined what was then the Boys Club in Albany, Georgia.
"I loved it," Largent said. "It really meant a lot to me. That was one of the things that was a real positive in my life."
Especially in his early teens, Largent said, he needed something positive.
"It was a formative age for me," he said. "I don't know how things would have turned out if I had not had a positive organization like the Boys & Girls Clubs."
Largent said his parents divorced when he was 6, and his mother later married a man who was an alcoholic. Largent's tumultuous home life left him searching for a place where he felt he belonged.
That's what he found at the club, he said.
"The sense of belonging there was really helpful to me," Largent said. "Some of these kids are just looking for some friends and someone to hang out with, and to do it in a constructive way. That's where the Boys & Girls Clubs come in."
Since the Concrete club opened Oct. 1, at least 110 kids have enrolled, said Boys & Girls Clubs of Skagit County Executive Director Ron McHenry.
That's about 20 percent of the school district's enrollment, Concrete School District Superintendent Wayne Barrett said.
"I'd still like that to be higher," Barrett said. "It's just a great opportunity for us to have positive adults with our students."
The school district's partnership with the club will hopefully allow all the involved parties to better serve kids, he said.
"We provide additional support in the school district's strategic plan to be able to create positive change in the lives of youth," McHenry said.
Kids who attend the Boys & Girls club receive free dinner and are taken home by bus.
While the district already supports a free community meal once a month, the club intends to also host one, as well as a monthly family day for members, McHenry said.
Before assisting in cutting the ribbon to the new club, Largent took questions from students, including one about preparing for their upcoming football game.
"If you have an aggressive defensive front seven, you can win the game," Largent said. "You need to get a lot of turnovers and not give them up."
He also talked about teamwork, camaraderie and selflessness.
"All those things are absolutely vital to everything they're going to do in life," Largent said.
At the elementary school, club members surprised Largent, a former congressman from Oklahoma, by making their own campaign slogans.
"Let's bring our country together," was sixth-grader Hunter Throssel's slogan.
"Right now, our country's kind of spread apart," Hunter said. "(Being together) makes us a better country."
Largent said it's never too soon to incorporate civics into everyday life.
"To me, the greatest civics lesson is, 'Do unto others what you would have them do to you,'" he said.